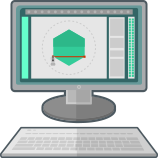 Desktop Computers and Workstations
Managing your information technology (IT) assets is crucial to be proficient and control spending. Your equipment must be properly maintained in order to provide the functions you require to service your customers. Even identifying critical systems and components that are past their mean-time-between-failures (MTBF) must be downgraded to support less critical functions while increasing function reliability.
JDC systems is a Direct Partner of Dell, Inc and offers a wide range of notebook, desktop and workstation solutions across a spectrum of performance and price points.
Additionally, Dell offers enterprise solutions, PowerEdge servers, switches and storage have the power and robust features that appeal to performance-intense, cost-conscious organizations.
Dell also offers wireless networking technology integrating the latest communications innovations. Add to that software, printers, support at a convenience of a true, one-stop resource.