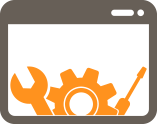 Business Process Automation and Management Services
Business process automation (BPA) is an organizational adoption of systems and processes that increases efficiency, provides transparency and facilitates compliance for repeatable processes. Organizations use automation in many forms—from customer relationship management (CRM) to accounts payable processes (AP)—to streamline processes and provide better customer service.
Key elements to identify a process for automation:
The process requires consistency across the organization
The process is repeatable
The process needs to be free from error, every time
Business process automation aims to make processes more cost-efficient, streamlined, error-proof and transparent. With automated processes in place, organizations save time and ensure best practices are implemented to improve overall operational efficiency.
Automate your workflow process from simple scripts to full fledged ERP networked or online systems.
JDC Systems can customize a solution whether from scratch or shrink wrapped software.