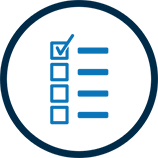 IT Project Management Services
Need someone to make your plans come to fruition? Many projects fail because a qualified project manager was not assigned. JDC Systems can manage your project and set realistic time-frame and cost expectations. These are the services we provide.
Project Management
Full life cycle management of a client's project, from initial feasibility through to final roll-out and post evaluation. This includes staffing, organization and management of the project team, either using the client's personnel or third party personnel as necessary.
Project Recovery
Project review and consultation on the options for recovery of a client's project, including takeover of failing projects.
Project Mentoring
Consultation to a client's project management staff to assist and advice them in successfully managing new or existing projects.
Project Assessment
Both one-time and ongoing assessment of a client's projects to ensure early warning of a project's risks and successful planning and action to mitigate them.
Project Launch
Specialized short term consultative services and review designed to minimize failure of new projects by ensuring that projects get off to a good start.
Project Management Support Systems
Software products, documentation and procedures designed to assist clients in the management of their projects.
Project Management Organizational Consulting
Consulting to client senior management on the reasons why, and the methods to, projecting business functions and operations.